Sarah Fox Memorial Fund
Sarah Fox Memorial Fund

Sarah Fox was diagnosed with breast cancer on October 9, 2007. At the time she was also 36 ½ weeks pregnant with twins. Twelve hours after her diagnosis the twins were born making a family of seven. While it wasn't easy, Sarah fought through the many challenges and treatments that cancer brings and beat the odds returning to work in January 2009.
Just over a year later Sarah developed a pain in her hip, which was discovered to be cancer. Sarah, her husband Matt, and their 5 children and extended family were once again faced with the fight against cancer.

Sarah's fight ended on December 9, 2011.
Sarah was a dedicated fire fighter and loved being on the job. Her battle with cancer was met with courage, strength and a smile that would give strength to every one around her. Her story touched the hearts of thousands across the state, country and world.
In her memory her Brother & Sister Fire Fighters, friends and family have established the Sarah Fox Memorial Fund.
The fund created through memorial donations, will give young women an opportunity to find their passion for the career that Sarah loved, through annual scholarships to Camp Fully Involved.
Camp Fully Involved is a physically challenging, hands-on, live-in week-long summer camp for young women between the ages of 14 and 20, who are interested in exploring the career of a firefighter. While at camp the girls will be in a safe, dynamic, interactive and physically challenging environment to gain strength and knowledge while building confidence and leadership skills. The young women will have the opportunity to do things that they may never have done before, and may never do again. What they will gain is a confidence and inner strength that comes through accomplishment and success, and those qualities will stay with them no matter what career they should choose.
We are pleased to be a part of this great opportunity for young women from across the world. We hope you can continue to support us as we build a lasting memorial to Sarah.
There will be three 2012 scholarships that will be announced in May. We will send additional young women as the fund grows with your help and through fundraising events like Sarah's Ride.
T
he Camp truly reflects the love for the Fire Service that Sarah enjoyed. We wish she could be here to see the faces of the girls that attend this exciting camp. Thank you for your time and donations we would not be able to do this without your support.
Donations can be made now
Or mailed to:
Portsmouth Fire Fighters Charitable Association
C/o Sarah Fox Memorial Fund
170 Court Street
Portsmouth, NH 03810
Camp Fully Involved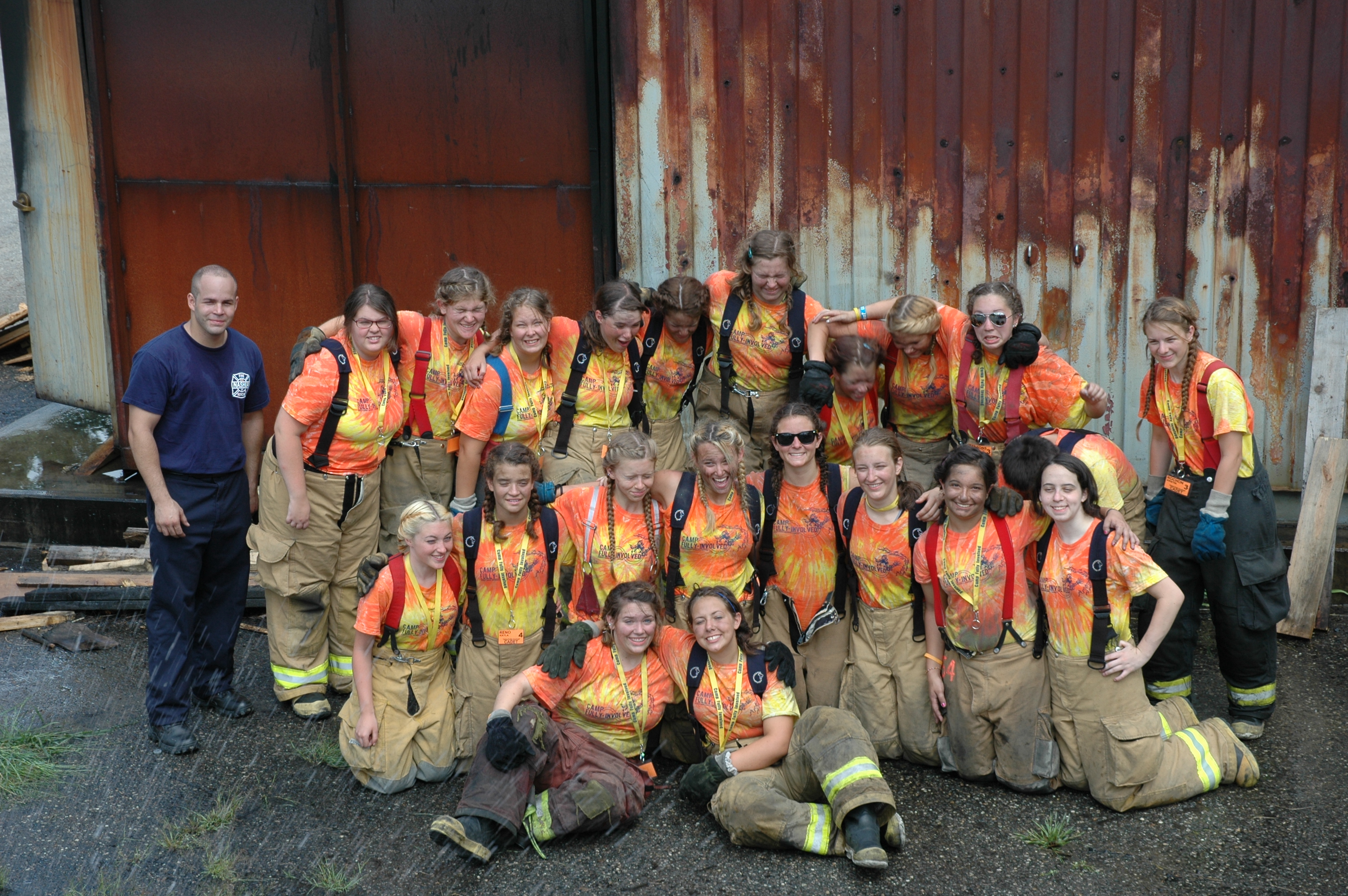 Learn more about this wonderful camp at
or
Click the picture above to watch a video about the great camp
Support Decals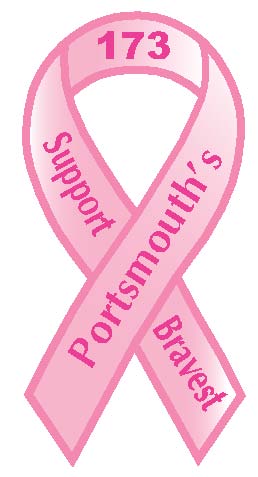 The pink breast cancer support ribbon has been personalized to show our support of Sarah. The 173 is Sarah's number affixed on her fire helmet identifying her, the bravest describes how she faces this fight, and support is what we can all do to help. Displaying the decal shows not only that we love and support Sarah but, we support finding a cure for a disease that has devastating consequences.
We hope you can join us by displaying a decal and showing your support.
Two decals are available, a small 2 ¼" helmet decal for $5.00 and another 5" suitable for your car for $10.00. All proceeds go directly to Sarah Fox Memorial Fund
To purchase a decal stop in at any Portsmouth Fire Station or mail a check with the attached order form to the Portsmouth Firefighters Charitable Association at 170 Court St, Portsmouth, NH 03801and we will send your decals right away or order them on line
or Make a donation here
Sarah Fox
Beloved Portsmouth firefighter Sarah Fox Dies
PORTSMOUTH — Rest in peace, Sarah Fox.
One of the lights of the Portsmouth Fire Department was extinguished Friday, the news devastating to the community.
Fox, a veteran of the Fire Department, lost her four-year battle with cancer at about 12:30 p.m. Friday at Concord Hospital. She was surrounded by family and friends. According to reports from those at the hospital, she died peacefully.
Fox retired from the Fire Department on June 30, because her cancer had been deemed inoperable. She retreated to her Canterbury home to spend the time she had left with her husband, Matt, and her young children, daughter Patia and twins Anika and Alexander.
The Fire Department and the community had rallied around Fox. Numerous fund-raisers, intended to help the family defray the exorbitant treatment costs, were held.
Fox will be remembered as a loving wife and mother, and as a well-respected firefighter and paramedic. Also on the minds of mourning loved ones are her incredible courage and determination to live for as long as she could.
Within hours of her death, messages flooded social networking Web sites. Her very public battle was over and shock quickly gave way to grief.
"You can anticipate it, discuss it with your spouse and no matter how much you think you are expecting it, you can never be ready," Matt Fox said in a telephone interview with the Herald. "It doesn't matter how you try to be ready. There is no way to be ready for this."
Fox was home Friday night, spending time alone with his children, his and Sarah's as well as her stepchildren Cassondra and Jacob. He said they needed this time alone as a family.
"They have been going through picture books, and posting on Facebook," the grieving husband said. "I'm reading all the kind words people have been writing and I am moved deeply by what they are saying. As bad as this is, I am fortunate to have been the one who got the girl. I got to raise a family with her and to be with her. I wouldn't change that for anything."
Fox said services for his wife are being arranged by her friends in the Portsmouth Fire Department. He said the services will likely be in the Concord-Canterbury area.
"We will let people know when things are set," he said. "I know there was so much support and I understand people want to know."
Loved ones and former colleagues also shared their loss on Facebook.
"Today, I had the honor of being with my sister, Sarah, as she became an angel," Portsmouth firefighter Russ Osgood posted on the social media Web site. "She has given me more than I could ever give back. Love you, miss you, I will never forget your strength and love."
The Portsmouth Police Department released the following statement on its Facebook page: "Our thoughts and prayers go out to Portsmouth firefighter Sarah Fox, her family, her friends and the members of the Portsmouth Fire Department."
The Portsmouth Firefighters Charitable Association Professional Fire Fighters of New Hampshire released the following statement: "It is with deep sorrow and respect that today we say goodbye to our sister, Sarah. She has shown us courage and compassion. She taught us the true meaning of family and all that can be accomplished when we pull together. We can never thank her enough for these life lessons; her legacy will live on, and our respect for her and her brave battle with cancer will only grow. We love you, Sarah, and always will. — Your brothers and sisters."
Firefighter Rick Condon is a close friend of the Fox family and is helping them coordinate arrangements for Fox's services.
"We are having a long day," Condon said. "The family is not prepared to say much yet. Everything is still in motion. It's such a tragic story. This completely galvanized our community and is still doing so."
Osgood said the family has been receiving e-mails and text messages since the news broke.
"The family are coping well," he said. "They are definitely grieving and they know everyone is praying for and thinking about them. They are doing as well as can be expected under such a terrible loss. Sarah is the bravest woman I ever met. She fought hard for a long time. She touched so many lives."
Osgood said Fox will be given the best final farewell that can be arranged. He said the family is grateful for all the support being offered.
Portsmouth Fire Chief Christopher LeClaire said the department is taking Fox's loss hard.
"We are all sad to hear the news," he said. "She was a wonderful person, and a fantastic firefighter and paramedic for us. The guys all pulled together to make her time comfortable. It's tough to lose such a quality person. I only wish we had more like her."
Assistant Fire Chief Steve Achilles said the department stands ready to support Fox's family.
"She battled valiantly," said Achilles. "She always had a very positive attitude and did not give up. She has so much courage and she taught us all. She was an 11-year veteran of the department, and I think she is at a place where there's no more suffering. Now, it's her family who needs the support, and I hope we can help provide that."
Page Last Updated: Nov 06, 2012 (11:21:00)