Purchase Decals or Donate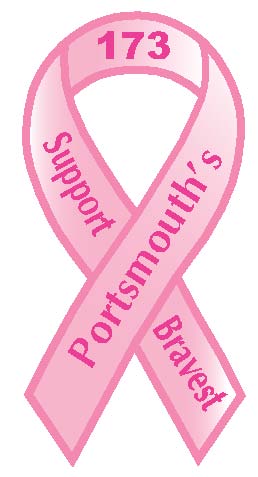 The pink breast cancer support ribbon has been personalized to show our support of Sarah. The 173 is Sarah's number affixed on her fire helmet identifying her, the bravest describes how she faces this fight, and support is what we can all do to help. Displaying the decal shows not only that we love and support Sarah but, we support finding a cure for a disease that has devastating consequences.
We hope you can join us by displaying a decal and showing your support.
Two decals are available, a small 2 ¼" helmet decal for $5.00 and another 5" suitable for your car for $10.00. All proceeds go directly to Sarah Fox Memorial Fund
To purchase a decal stop in at any Portsmouth Fire Station or mail a check with the attached order form to the Portsmouth Firefighters Charitable Association at 170 Court St, Portsmouth, NH 03801and we will send your decals right away or order them on line
or Make a donation here