Firefighter Cancer Awareness Program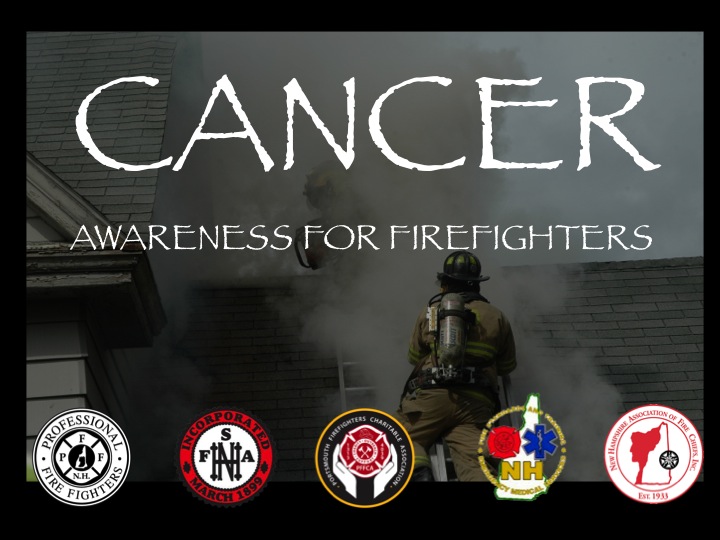 The Firefighter Cancer Awareness Program was developed through the joint efforts of NH Fire Standards and Training, NH Association of Fire Chiefs, NH Fireman's Association, Professional Firefighters of NH, Firefighter Cancer Support Network and the Portsmouth Firefighters Charitable Association. The program is offered to give the student an understanding of the increased risk of cancer firefighters face. We know all too well the effects of cancer on our firefighters.
The program, is presented thorough lecture, video, and personal testimony that presents to the student the underlying causes for the many cancers that are on the rise. What we all can do to prevent this epidemic from growing both in our daily lives and on the fire ground to, what you face with a diagnosis of cancer and how to support a loved one diagnosed with cancer.
It is our goal that this important awareness program will grow into a universally accepted effort changing the attitude's of the firefighters that continue to put themselves at risk. Understanding the dangers looming in the toxic environments we face and how to prevent unnecessary exposure is the first step in stopping this epidemic.
Please join us in this effort. Keep checking back here for more updated information. To schedule this important lecture at your department please contact us thorough the online form for scheduling.
Please watch this short video about our program.
Supporting
This is the story of supporting Sarah. Thanks to the folks at Edify Multimeda group for producing this video that explains how Sarah's cancer journey inmpacted more than just Sarah but and entire department and beyond.
Page Last Updated: Apr 10, 2013 (17:15:00)